Kleenex Facial Cleansing Line (Product Review)
Kleenex brand/Kimberly Clark recently sent me a starter pack of the new Kleenex Facial Cleansing line. The textured, multi-layered, fabric-based, gentle facial cleansers (all are disposable) are infused with a pro-vitamin complex, (contains aloe, vitamin E, cucumber and white tea extract) promotes noticeably healthier looking, and feeling skin.
The refillable product dispensers are not only aesthetically pleasing, but easy to refill. Just slide in the refill pack, peel off the cover and use!
The Full Product Line:
Exfoliating cushions (refillable)

Moist facial cleansing wipes (refillable)

Cotton soft pads
Moist eye makeup removers (Refillable)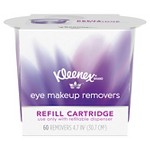 My starter pack contained full-size packages of exfoliating cushions, moist facial cleansing wipes and moist eye makeup remover pads, plus refills. I also received a rather stylish, refillable dispenser for each full-size product.
Exfoliating cushions
I was lucky to have received my starter kit when I did, as I had forgotten to charge my Clarisonic. The exfoliating cushions are my top pic of all the products. I like to think of these as "multi-tasking cushions of skin radiance." Each dispenser holds 12 pads. I received one dispenser and full size product plus refill.
The disposable exfoliating cushion is dual-sided with a water activated gentle cleanser. One side (scrubby texture) of the cushion cleanses, as it massages and exfoliates. The other side (buffing texture) smooths and polishes.
The manufacturer recommends: Use 2-3 times per week in place of regular facial cleansing. For best results: 1. Add water to blue side and rub pad between fingers to form lather. 2. Use the blue side on the forehead, cheeks, nose and chin. 3. Use the white side as a finishing polish.
I may retire my Clarisonic to its charging base indefinitely I am quite impressed by how smooth and soft my face felt after one use. No dryness, residue or irritation. 😊


Moist facial cleansing wipes
I received samples of the single-use wipes, resealable travel size pack, plus one dispenser and full-size product, plus refill pack. The dispenser holds 25 wipes. These fancy multi-layered fabric wipes are moistened with a pro-vitamin complex infused cleanser. Gentle, alcohol free cleansing.
They easily and without much effort, removed all my makeup and waterproof mascara. They leave my face feeling clean and refreshed. The travel size pack is conveniently sized for purse or gym bag.
The wipes are dermatologist tested and appropriate for those with sensitive skin. While the facial cleansing wipes effectively remove layers of mascara, I prefer to leave most of that work to the Kleenex moist eye makeup remover pads.
Eye makeup remover pads
My starter pack included one full-size pack, plus dispenser and refill. The dispenser holds 60 remover pads. The micro-fine fabric eye remover pads are oil-free and designed for sensitive skin. Also infused with pro-vitamin complex cleanser, which is alcohol free and gentle on the eyes.
After using my eyes are left feeling clean, without redness, oily residue, or dry/irritated eyes.
After using my Kleenex Facial Cleansing line starter pack over the past couple of weeks, I will say the products by far have exceeded my expectations. High quality disposable fabric, gentle cleansing, effective exfoliation, and stylish refillable packaging.
Our busy lives welcome shortcuts, but skincare should never fall sacrifice. Kleenex did it right with one-step facial cleansing, simplifying one of many parts of our daily beauty regimen. For the skincare conscious, (myself included) this may incorporate multiple products and treatments. As we can attest, that in addition to facial cleansing, a typical routine includes peels, masks, serums and creams, to list a few. This facial cleansing line is a welcomed shortcut.
Kleenex Facial Products are available exclusively online only and are currently not sold in stores.
Purchase the full product line online at kleenexfacialcleansing.com
Sign up here for a free trial and only pay $5 shipping!

Other approved online retailers (links direct to product page): Amazon, Target, Walmart and CVS.
Have you tried Kleenex Facial Cleansing Products?
xo Nicole
Instagram: @missnicolelynn1
Twitter: @_nicole__lynn_
Pinterest: @glamwarous1
My YouTube Channel
The products I reviewed in the post I received complimentary from Kleenex brand/Kimberly Clark. This post also contains affiliate links. I may receive compensation if you make a purchase through these links. Please click on disclosure link to read my full disclosure statement.